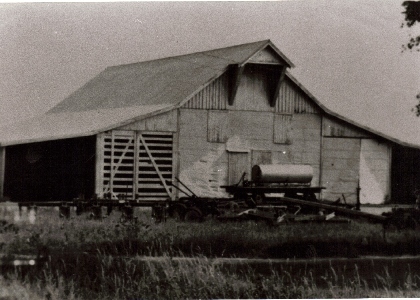 Magers Barn ca 1967, built ca 1930; photo by Curtis Duncan; known as the C C Duncan Farm from 1957-2004
---
Our Objectives
Agricultural Architecture: The Widner-Magers Farm Historic District allows us to display the unique folk architecture that defined the Arkansas Mississippi Delta in the early 20th century through building styles, materials, and work function.

* Farm Architecture:
* Farm Style:
---
Folk Culture of the Mississippi Delta: The Widner-Magers Farm Historic District provides an opportunity to conserve the rich heritage of the Mississippi Delta in Northeast Arkansas. People of diverse backgrounds came together here in Mississippi County to drain the swamp and cultivate the soil. These people brought to our area a unique folk culture. Through research and a living history museum, we hope to preserve and share a part of the 1930s farm life.

*Farm Life:
*Farm Equipment:
*Farm Fashion:
*Vintage Recipes
*Farm Crafts:
---
Education and Agri-Tourism : This project provides us with the opportunity to showcase the various aspects of agricultural production. The goal is to provide resources to enable visitors to enjoy hands-on experiences and educational opportunities regarding Delta farm history.
---



Many thanks to those who have generously donated items to the Widner-Magers Farm: Dave & Shirley Short, Prim, AR; Marguarite Brownlee and Family, Dell; Bobby Hogan, Dell; Bo Whistle, Dell; Charles Parrish, Sherwood, Ar; Catherine Boren, Gosnell, Ar; Sandra Carpenter, Dell; Phillip Brown, Jonesboro, Ar; Mr. & Mrs. Chris Christenson, Calumet, Ar; Joe Chipman, Manila, Ar; Kevin Gerber, Marmaduke, Ar; Alton & Bernice Blaylock, Crossroads (S of Dell), AR



---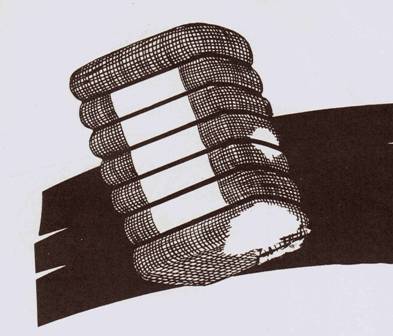 U. S. Cotton Facts. . .
A bale of cotton weighs about 500 lbs.

U. S. textile mills will spin almost 3 million bales of cotton this year. That's enough cotton to make more than 600 million pairs of men's jeans and more than 2 billion men's dress shirts.

One bale of cotton can make: 215 Pairs of Jeans; 249 Bed Sheets; 409 Men's Sport Shirts; 690 Terry Bath Towels; 765 Men's Dress Shirts; 1,217 Men's T-Shirts; 1,256 Pillowcases; 2,104 Pairs of Boxer Shorts; 2,419 Pairs of Men's Briefs; 3,085 Diapers; 4321 Mid-Calf Socks; 6,436 Pairs of Women's Knit Briefs; 21,960 Women's Handkerchiefs; 313,600 $100 Bills.

Sources of information; USDA ERS, FAO, EPA, USDA Census of Ag
---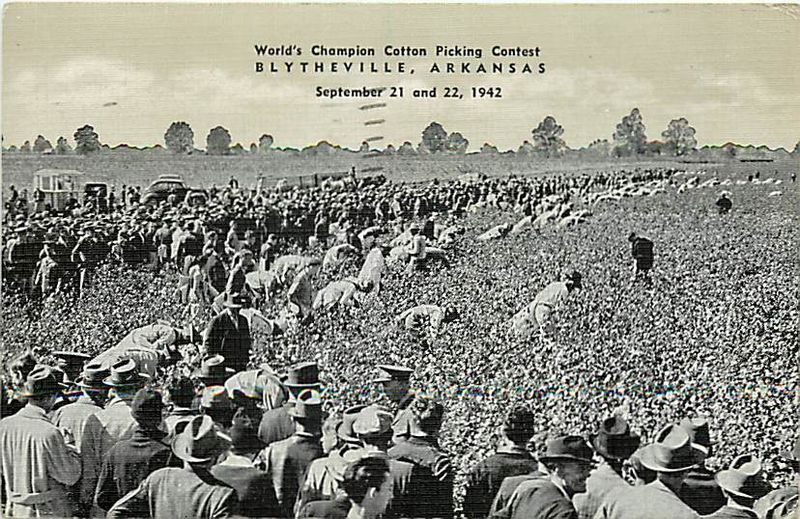 Here's one of those things that's funny but holds much truth. A reprint from the Boston News Bureau:
What is Cotton?
COTTON is the overcoat of a seed that is planted and grown in the Southern states to keep the producer broke and buyer crazy. The fibre varies in color and weight and the men who can guess the nearest the length of a fibre is called a cotton man by the public, a fool by the farmer and a poor business man by his creditors.

The price of cotton is fixed in New York and goes up when you have sold and down when you have bought. A buyer working for a group of mills was sent to New York to watch the cotton market and after a few days' deliberation wired his firm to this effect--"Some think it will go up, some think it will go down, I do, too. Whatever you do will be wrong. Act at once."

Cotton is planted in the spring, mortaged in the summer and left in the field in winter.

There are other definitions, but none better than this.
---
---
---
July 13-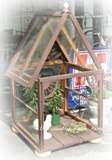 Re-Purposed Shabby Doors and Windows
July 12-Wildflower or Weed?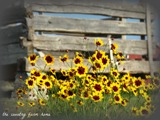 July 10-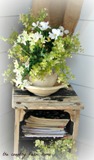 Inside the Outhouse--Just for Fun
July 8-Saying "I Do"--A Rustic Barn Wedding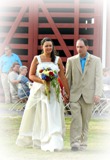 July 6-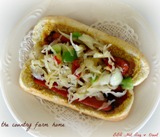 Recipe for Easy Kraut Salad
July 4-Vintage & Charming--China Demitasse Cups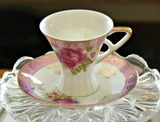 July 3-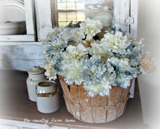 Keeping Room Redo Update
July 1-Barn Charm--Somewhere in Tennessee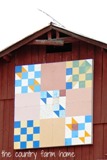 June 29-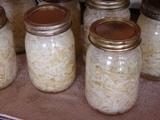 Easy Sauerkraut In A Jar
June 27-In The Pink--Crepe Myrtle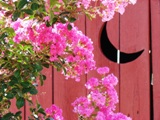 June 26-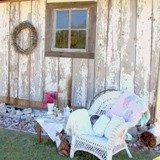 Building Our Shabby Shed
June 24-Barn Charm--Magers Barn #3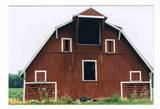 June 22-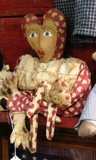 Raggedy? Yes!--A Few Old Rag Dolls
June 20-Farmer John's Peanut Butter & Jelly Sandwich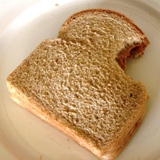 June 19-
To Keep Vintage White--
June 18-Barn Charm-Granddaddy Built A Hay Barn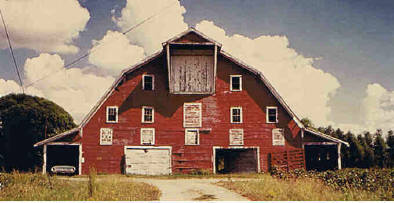 June 17-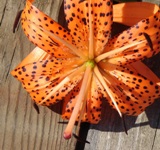 Tigers in the Garden
June 16-Donations to the Historic District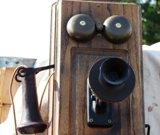 June 13-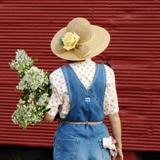 Farm Girls, Farm Wives, and Farm Overalls
June 12-The White Crepe Myrtle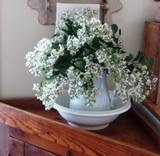 June 11-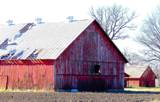 The Old Whistle Barn
June 10-Old South Folk Art Prints of Artist Floyd Gordon
June 7-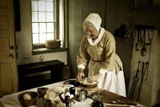 A Visit From The Open Hearth Cook Mercy Ingraham
June 6-Barn Quilts on the Porch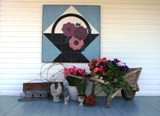 June 4-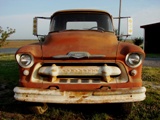 The 1956 Chevy Farm Truck Comes Home
June 2-Barn Charm-The Old Brownlee Barn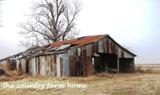 May 30-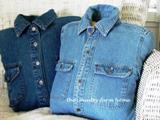 The Denim Shirt Pillow
May 28-Bunches of Overalls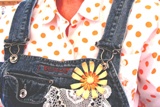 May 26-
The Great Hwy 25 Yard Sale Treasure Hunt
May 24-Consider The Lilies. . .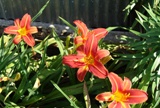 May 23-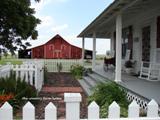 Barn Watching
May 20-Recipe For Grandmother's Buttermilk Pie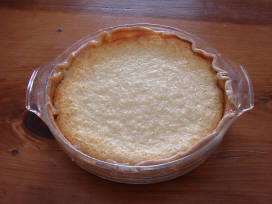 May 17-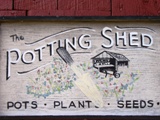 Around The Farm
May 16-Vintage Pattern for Retro 50s His & Her Plates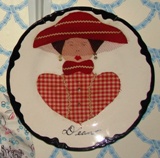 May 14-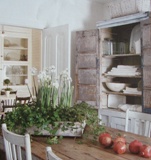 Plans For The Keeping Room
May 13-A Real Country Kitchen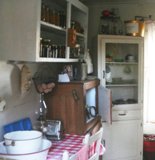 We each have our place in time, and if we live right, we change that place and that time for the better.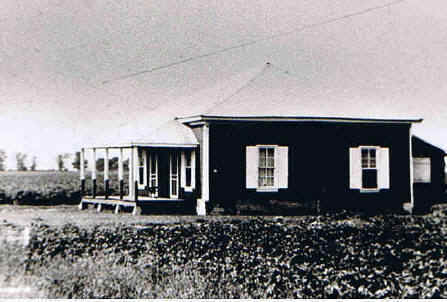 HISTORY of the Widner-Magers Farm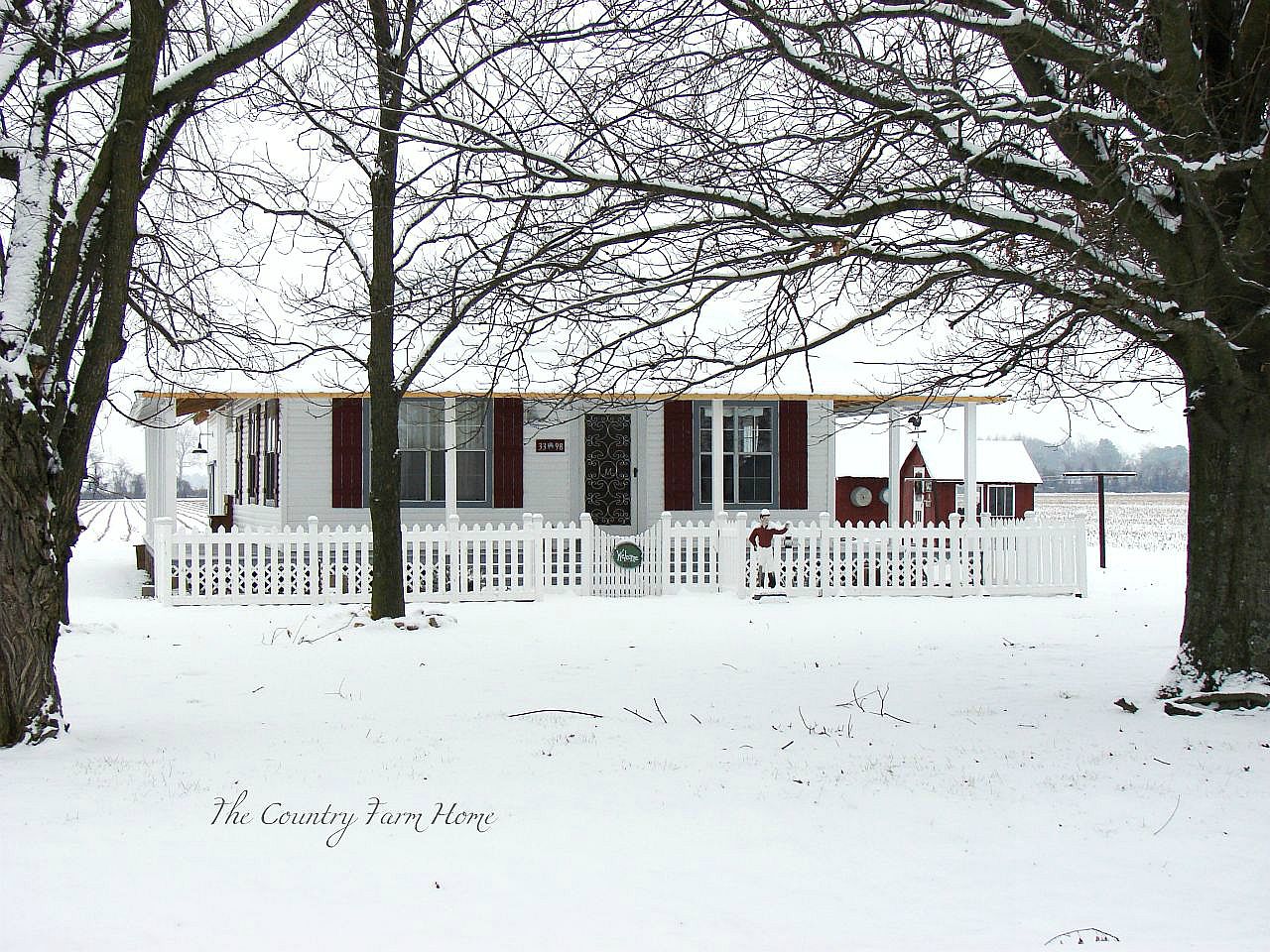 ---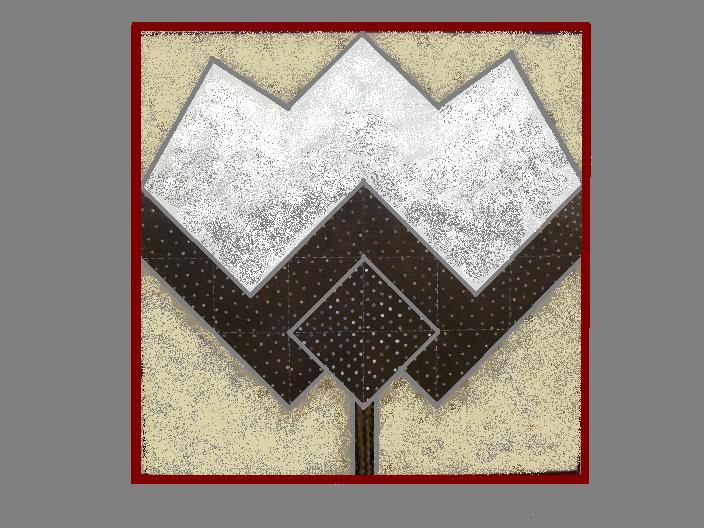 Farm Life 2012 . . . . . .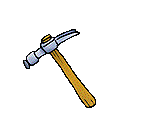 Click this link to view the entire blog: thecountryfarmhome.blogspot.com
Or, Click the Individual Blog Postings Below:
Jan 13-I'm Weaving with a New Rag Rug Loom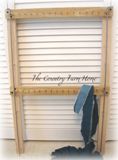 Jan 9-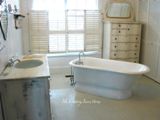 Splish Splash-Stripping Down the Bath
Jan 6-Winter Blues with a 25c Find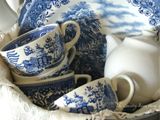 Jan 4-
Three Table Runners-One Tutorial
Jan 3- Inspiration for the Living Room Redo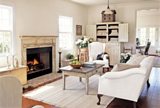 Jan1-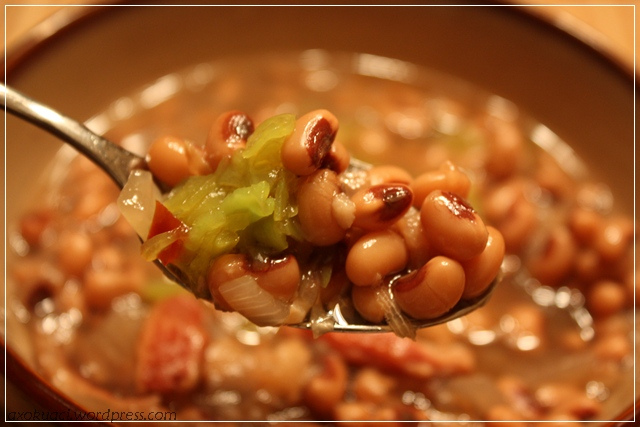 It's Not Too Late for Luck & Prosperity
Dec 31-Green the Whole Year Round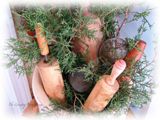 Dec 30-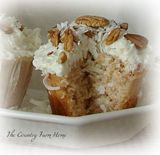 Only 3 Ingredients-Heavenly Cupcakes
Dec 24-A Christmas Story from the Farmhouse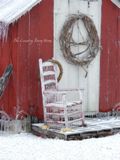 Dec 21-Country Whites Weekend #1-A Farmhouse White Christmas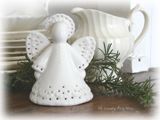 Dec 18-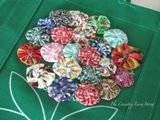 Last Minute Christmas Gift Idea
Dec 16-Santa Was Glamping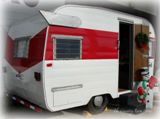 Dec 13-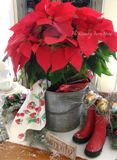 The Table is Set for a Holiday Dinner
Dec 11-Warm and Cozy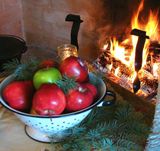 Dec 10-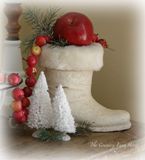 Vintage White Farmhouse Finds
Dec 9-Farmhouse Christmas Style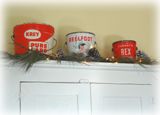 Dec 7-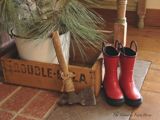 Is Christmas That Close?
Dec 6-Moon Pie Bread Pudding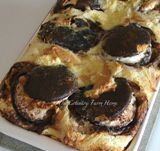 Dec 5-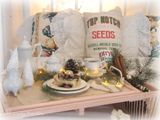 Holiday Breakfast in Bed
Dec 4-Spiced Tea--A Family Tradition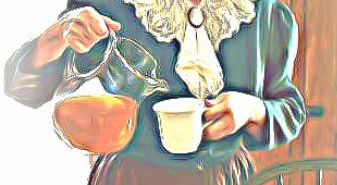 Dec 2-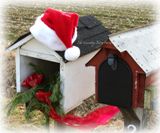 Farmstyle Christmas from the Past
Dec 1-Country Whites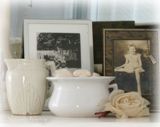 Nov 29-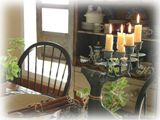 Reindeer on the Roof?
Nov 27-Jewels for the Tree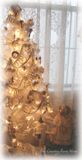 Nov 26-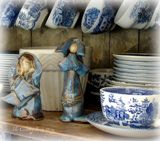 Farm Fresh Feature
Nov 25-Farmhouse Touches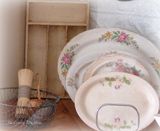 Nov 20-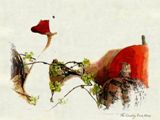 Over the River and Through the Woods
Nov 19-Putting Thanks into Thanksgiving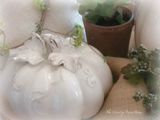 Nov 17-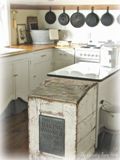 Welcome to My Kitchens
Nov 15-The Farmhouse Keeping Room is Revealed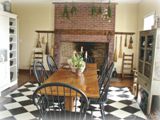 Nov 13-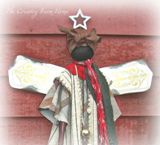 A Few Prim Angels (Delta Angels)
Nov 11-Farmhouse Kitchen Reveal is Coming. . .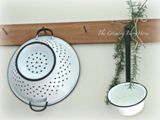 Nov 8-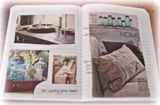 Keeping It Together. . .Idea Journals
Nov 6-The Pie Safe Blues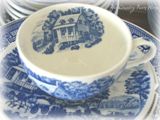 Nov 4-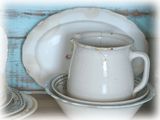 Simplifying the Farmhouse Cupboards
Oct 31-Boo-o-o-o-o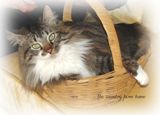 Oct 28-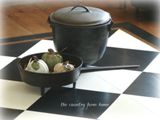 The Checkerboard Floor Is Done
Oct 26-At Times the "Honey" Gets It Right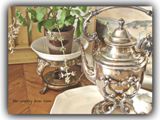 Oct 22-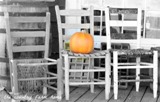 Sometimes a Single Pumpkin is All You Need
Oct 20-Almost Too Big For The Barn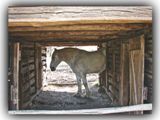 Oct 18-It's A Natural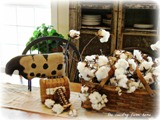 Oct 17-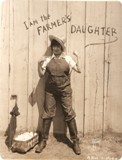 The Farmer's Daughter
Oct 15-Wagon of Plenty & A "Chilly" Monday Recipe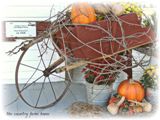 Oct 13-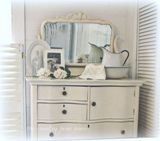 Farmhouse Treasures in the Bath
Oct 12-Frugal Cake Plates for $2 or Less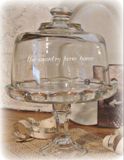 Oct 10-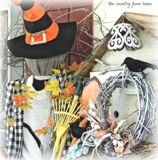 A Not So Spooky Front Porch
Oct 8-Fall Color in the "Butler's Pantry"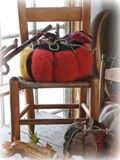 Oct 7-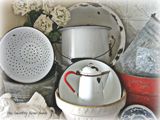 Farmhouse Finds
Oct 4-Gathering Together in Watercolor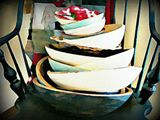 Oct 2-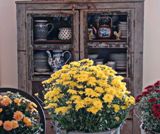 Love My Mum (s)
Sept 30-Vintage Jars & Egg Baskets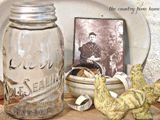 Sept 29-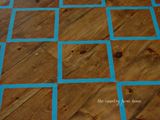 Is It Hopscotch? Checkerboard Floor Inspirations
Sept 26-White Gold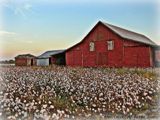 Sept-24-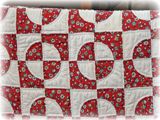 A Wonderful Quilt Show in the Delta
Sept 23-Barn Charm: The Moore-Cook Barn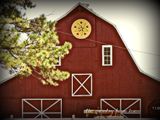 Sept 22-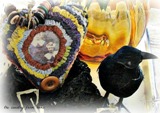 Two Ravens Came A Calling. . . .
Sept 19-Corn Shuck Lady Tutorial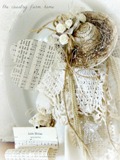 Sept 17-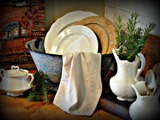 Plain & Simple Farmhouse Vignettes
Sept 12-Chicken In The Kitchen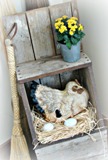 Sept 10-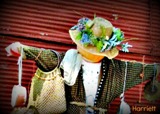 Scarecrows I've Known
Sept 9-Deep Dish Candy Apple Crisp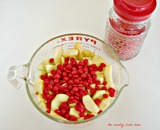 Sept 8-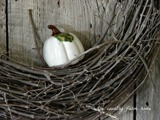 Easy as 1-2-3 White Wash
Sept 4-Simple Pleasures & White Cabinets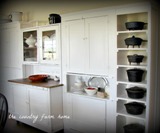 Sept 3-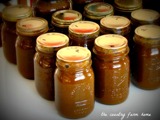 Making Pumpkin Butter, Part II
Sept 2-Charming. . . . . . . . . . .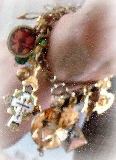 August 25-
Thrifty Cloches
August 22-Our Shabby, Bird Condo--A Tutorial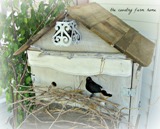 August 19-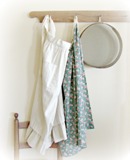 A Day of Rest
August 17-Two Vintage Feed Sack Blouses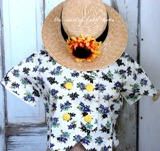 August 16-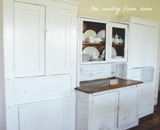 To Distress or Not To Distress
August 14-RePurposing: A Rustic Table-Bench Tutorial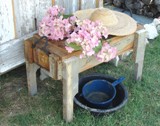 August 11-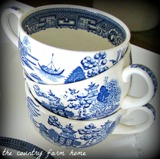 So Blue--Transferware for the Keeping Room
August 10-A Typical Day. . .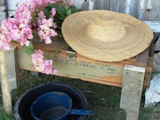 August 9-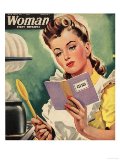 A Happy Home Recipe
August 7-Norma's First Rag Rug Reveal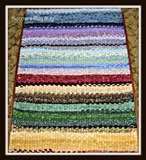 August 5-The Shabby Bath: Accessorizing the Dresser Sink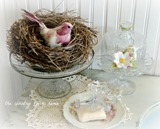 August 5-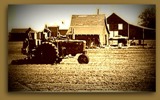 Barn Charm: A Vintage Photograph
August 2-Just a Chair of Bowlies: A Tutorial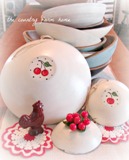 July 31-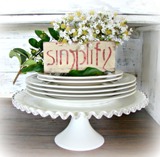 The Keeping Room: Simplify
July 30-Barn Charm: The Moody Horse Barn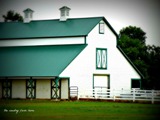 July 29-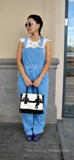 Pearls, Lace and Overalls
July 27-Corn Garlands for Fall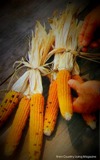 July 26-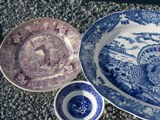 The Art of Thrifting
July 23-1930s Green Kitchen Tins & Other Things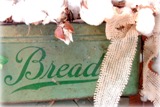 July 21-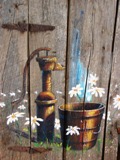 For the Keeping Room: Folk Painting on an Old Barn Door
July 19-Making Amish Peach Jam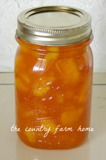 July 16-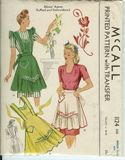 About Vintage Aprons
July 15-Barn Charm--Everett Log Barn Becomes Log Cabin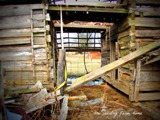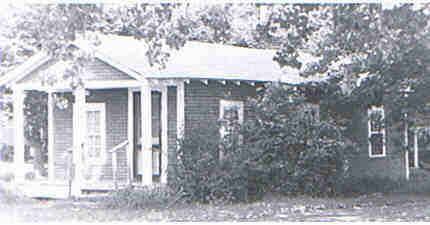 Shotgun Tenant House ca 1950,built on the Magers Farm ca 1932; photo by Curtis Duncan
---
For questions, or to send information, contact: backatthefarm1938@yahoo.com
Farm Tours are CLOSED until Fall 2014
In the meantime, you can visit us at:
The Country Farm Home on FACEBOOK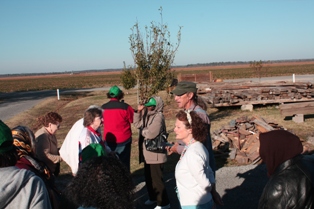 ---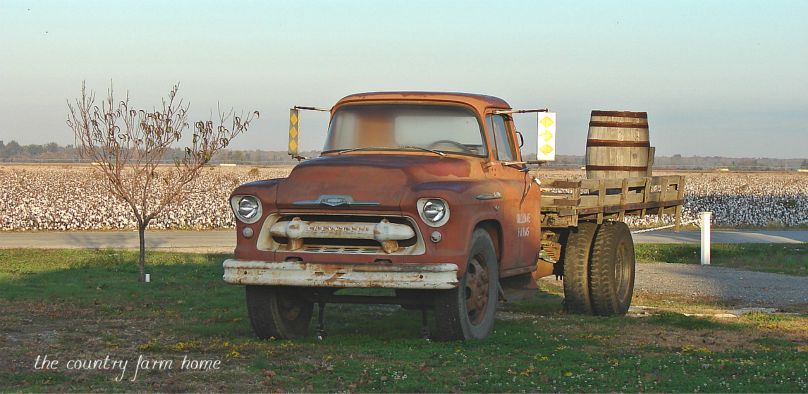 This 1956 Chevy "Bob" Truck was donated in January by Karen Dilldine of Half Moon Farms. We hope to restore it to it's former beauty. This truck was possibly originally owned by Curtis Duncan Farms and is back home again!
Thanks so much, Karen!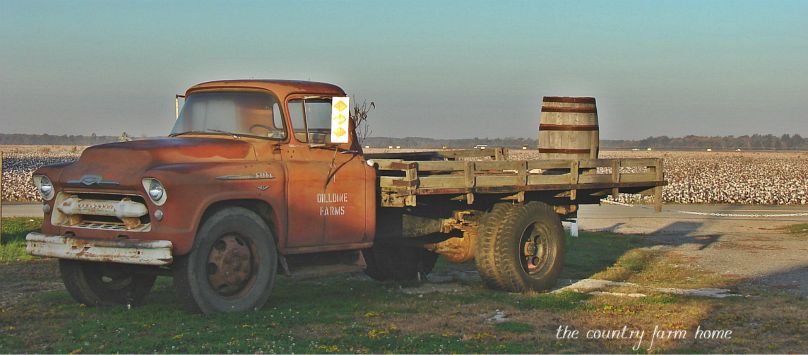 ---
FACEBOOK

We're studying quilts used by the farm workers in this area--often called "utility quilts." If you happen to own any of these quilts, please email us. This is a part of our local Delta culture that is being lost.
---
We were featured in the December Issue of Delta Crossroads!Click here for a preview
The Widner-Magers Farm Historic District was also featured in the July 2009 Rural Arkansas Magazine!
---
Widner-Magers Farm Historic District
A Member of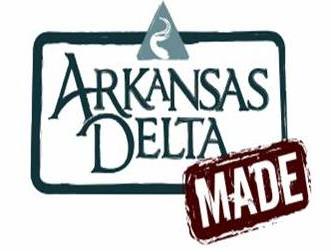 A Member of ALFHAM
We Grow

---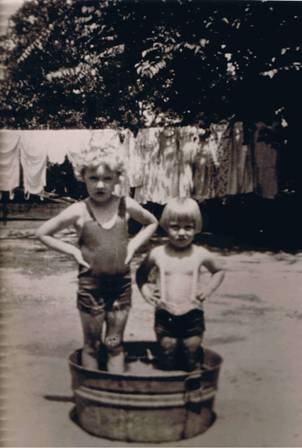 Wash Day: Irene Magers (left) & Friend
---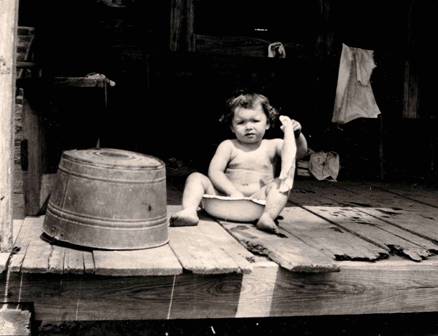 ---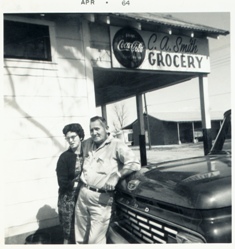 C A & Juanita Smith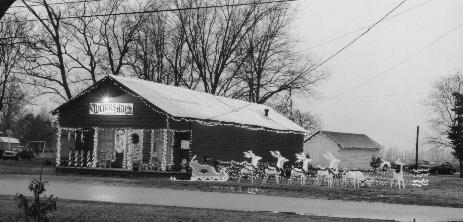 "In the early 1990's, Dell town officials and the Dell Garden Club members began lighting Main Street at Christmastime with 1000's of tiny white Christmas lights. . ."
Santa's Workshop in the above photo is the C. A. Smith Grocery building in Dell, AR, during the Victorian Christmas in 1994. The grocery is now located at the Widner-Magers Historic District, north of Dell.
During the early years of the 1990s, the entire town of Dell came to life during the Christmas season with lights, carolers, and other entertainment. For more of the story and photos, CLICK HERE for dellarkansas.com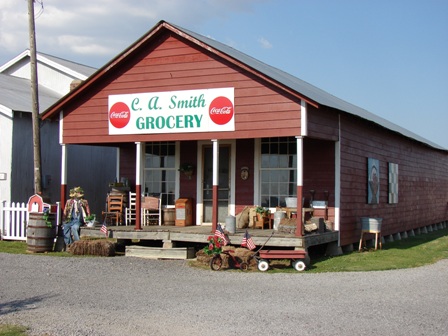 ---
May 11-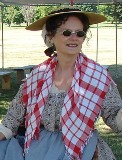 Back To The Past
May 8-Early Farm Kitchens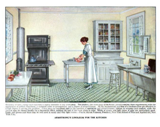 May 6-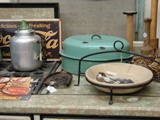 Junking In The Bootheel Of Missouri
May 3-A Shabby Chic Apron From Denim Jeans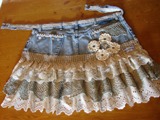 May 2-Rag Rug Loom Now Available Online
April 29-Retro 50s At The Old Greyhound Bus Station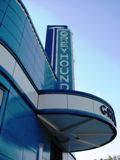 April 27-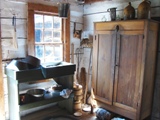 Inspiration From The Homeplace In Tennessee
April 22-Vintage Store Labels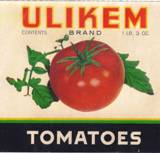 April 20-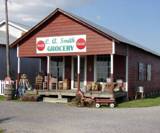 Our Old Country Store
April 17-Three Farm Dresses--1920s-30s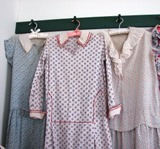 April 16-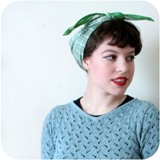 Heads Up! How To Tie A 1940s Headscarf
April 14-How To Dress A Her Crow Scarecrow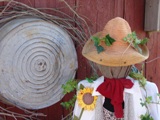 April 7-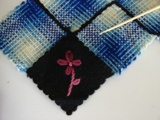 My Aunt's Weave It Loom Project
April 5-Folk Art On The Clothesline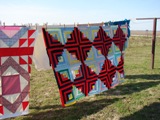 April 3-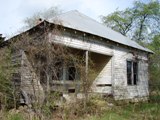 Just An Old Farmhouse
April 1-Overalls and Accessories From The 1930s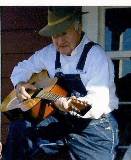 Mar 30-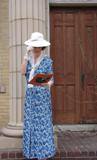 Grandmother's 1940s Spring Dress
Mar 27-Rag Rug Inspiration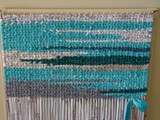 Mar 17-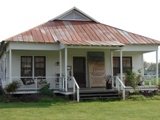 A Visit To A Painted House
Mar 16-A White House Cookbook of My Own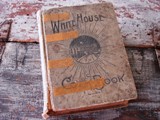 Mar 14-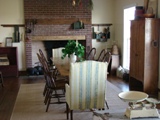 The 1930s Keeping Room
Mar 10-When Life Gives You Pots, Make Gumbo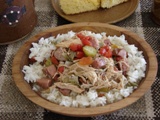 Mar 8-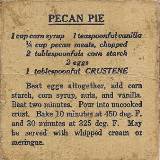 Pecan Pie Recipes from Three Generations
Mar 6-The Country Bedroom 1930s Style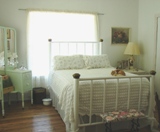 Mar 5-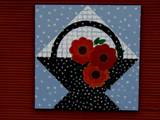 Barn Quilts and Cross Stitch
Mar 3-Farmer Boys and Overalls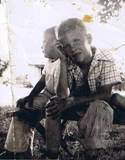 Feb 29-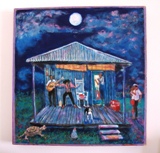 The Delta Folk Art of Stephen Hudson
Feb 27-The Farm Dress, Then or Now?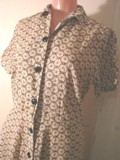 Feb 23-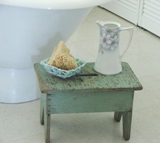 The Country Bath
Feb 20-A Simple Apron to Sew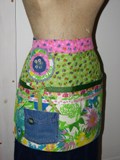 Feb 17-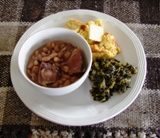 Beans-n-Ham & Easy Spoon Bread
Feb 16-Farm Album: "We've Come a Long Way, Baby" Part 2
Feb 15-Farm Album: "We've Come A Long Way, Baby!"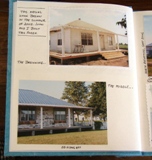 Feb 13-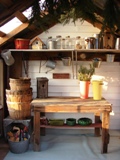 Inside the Garden Shed: A Touch of Spring Fever
Feb 9-Folk Art Portrays Delta Life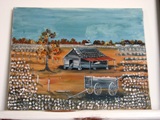 Feb 3-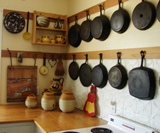 My Kitchen's Hidden Secrets
Jan 31-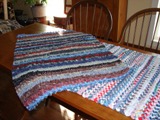 Rag Rugs: A Delta Folk Art
Jan 28-Let's All Go To The Ritz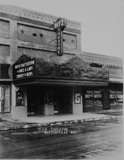 Jan 23-Cowboy's House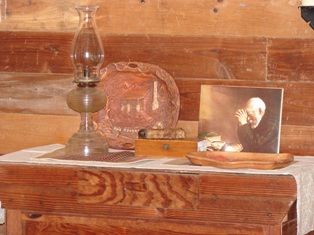 Jan 20-Making Pumpkin Butter, Day 1
Jan 11-If Life Gives You Gumbo, Make Pottery
Jan 14-1825 1825 Log House On It's Way Up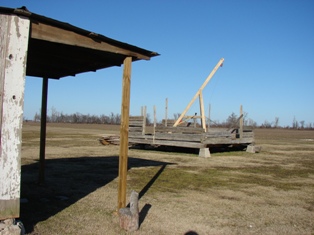 Jan 7--Pickin', Singin', and Shootin'--Photographs, That Is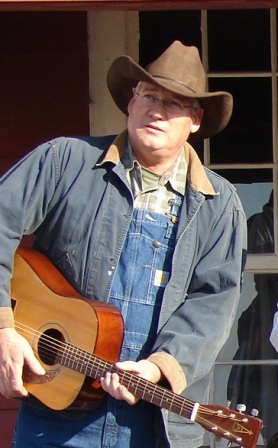 A Photo Shoot at The Farm today for Joe Chipman's new CD.
Dec 29-Crazy Crooked T-Shirt Quilt
Dec 30-Quilting the Crazy Crooked T-Shirt Quilt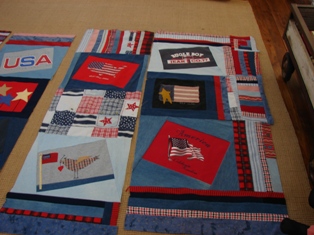 ---
---
---