Click Here for: Farm News 2010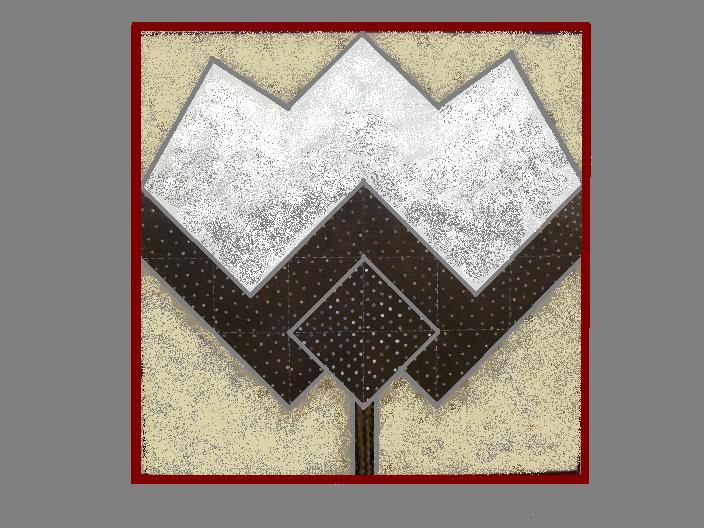 Farm News 2011
News as it Happens 'Here at the Farm' . . . . . . . . . . . . . . . . . . . . . . . . . . . . . . .
January 2011! Happy New Year Everyone! Yes, I'm reconstructing this website. . .Sorry for the mess. It may take a couple weeks (or months!) to finish, so don't give up! I am working hard "behind the scenes."
We have lots of new ideas and projects for 2011 to tell you about. . .
Jan 12-Baby, it's cold outside! We're staying close to the fire today! We're also making kraut, using Mom's very simple recipe. John never liked kraut til he tasted mine! Much milder and sweeter than you buy at the grocery. I have some great recipes using kraut, too. I'll be posting them online soon.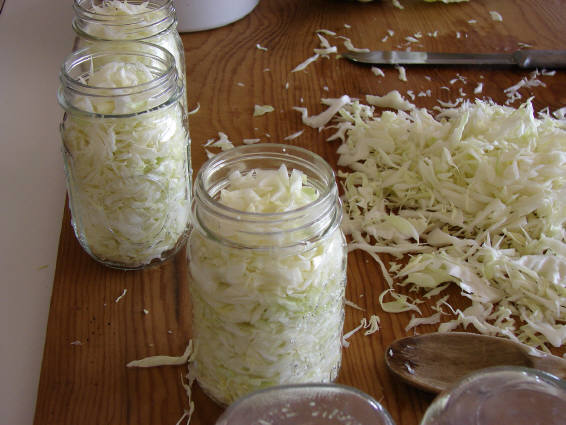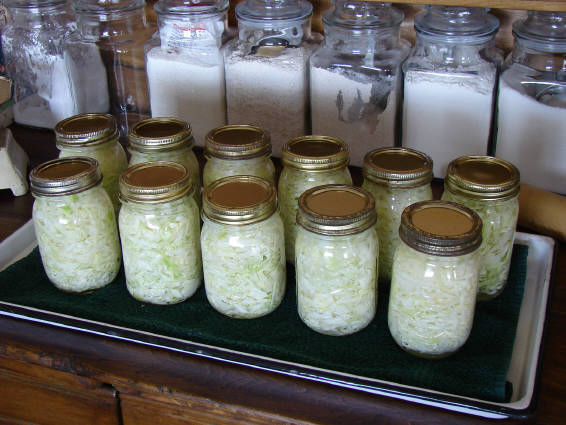 Jan 21-We have snow--again! And, very cold. I ventured out to the mailbox and took a few photos to share with you!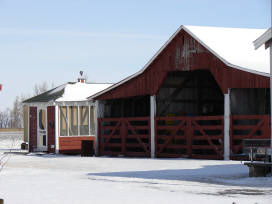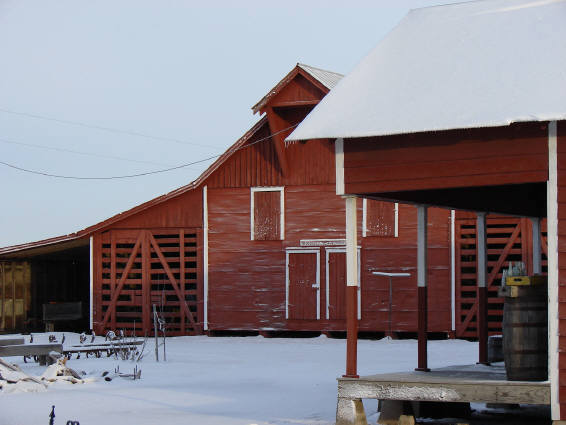 We have a few logs up on the cabin. We're now waiting for cypress joists for the floor. A small sawmill in Lake City is cutting them for us. After the floor, we'll be going on up with the walls!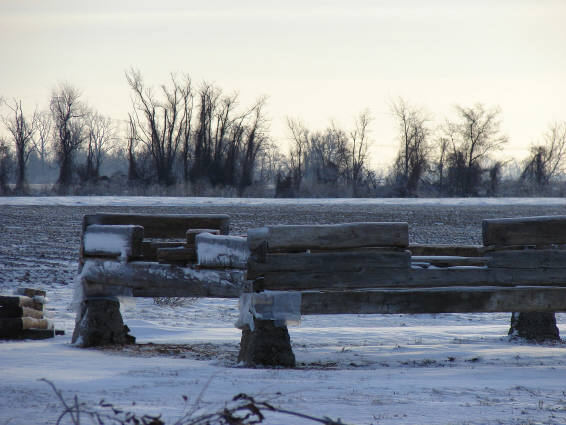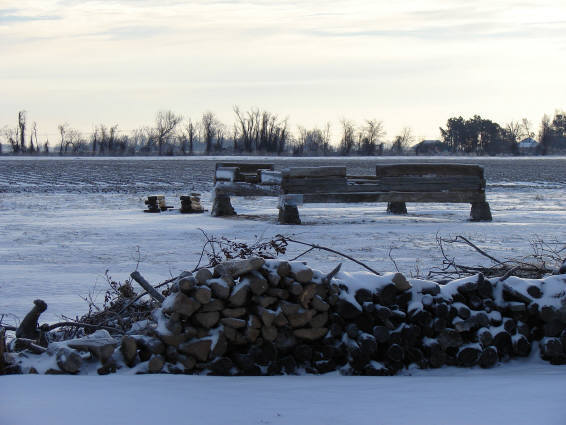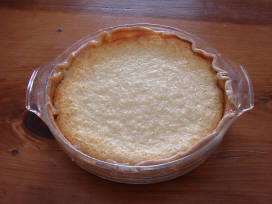 Granddaddy Magers loved buttermilk and drank it with most of his meals. I love baking with it. Today I'm making Buttermilk Pies and Moon Pie Bread Pudding with Chocolate Sauce! I'll post the recipe for my buttermilk pie soon. . . And, how about a Buttermilk Pecan Pie? That's always a crowd pleaser. I'll share that recipe with you, too.
Feb 10-Believe it or not, we've had two more snows! What a winter! But "they" promise spring is around the corner.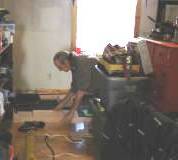 To keep "cabin fever" from setting in, John decided to put down an oak floor in one of the bedrooms.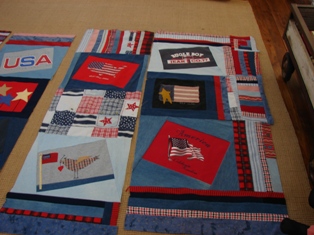 I decided to work on the T shirt & jeans quilt.
And Boo decided to do what Boo does best--sleep til spring!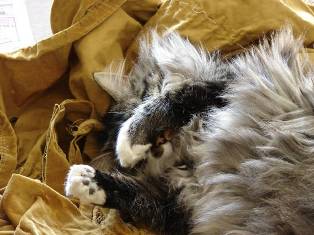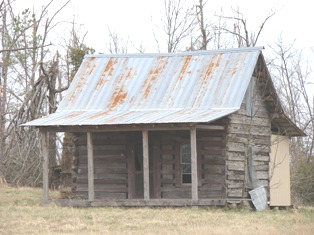 Feb 23-John's been working a little on the log house, but we are pretty much at a standstill until we get the milled cypress from Lake City. The photo at left is a log house we found in the Ozarks. We will be basing our cabin on this design. Unfortunately, there were only enough good logs for us to reconstruct one side of the Everett home, so our little cabin will be small and cozy. Hopefully, we'll be able to teach some open hearth cooking in it next winter!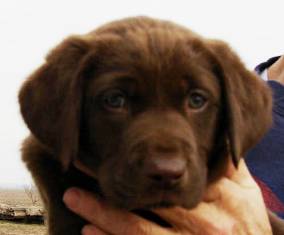 Feb 25-Meet our newest addition to the farm--D. J. Dancing Bear, or "Bear" for short. I won him in a drawing at the Delta Farm Show in Memphis, TN today! I told everyone, all day long, that I was going to win him, but no one believed me. Guess I showed "them", huh? He's a seven week old registered Chocolate Labrador. He already outweighs Boo (the cat), who, by the way, is less than happy about the new competition. I have no doubt they'll become friends--eventually. John is still in shock but also pleased that he will have an outdoor companion. Labs are great hunting and family dogs. He'll fit into our farm life perfectly.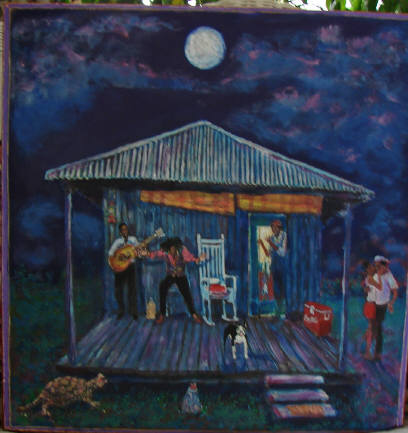 Isn't this a wonderful folkart piece by Stephen Hudson? We visited with Stephen while in Memphis today. Even though he wasn't set up this year to sell, he met us at the Farm Show with this painting he'd done just for me! It's our shotgun house! Note the white rocker like the ones we have on our front porch. The coca cola ice chest on the right is the "spitting image" of Daddy's old chest that we have displayed in the store. I just love it! I hope one day Stephen will visit us and use our farm buildings for more of his paintings.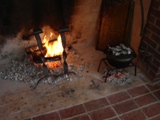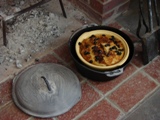 Feb 12-Our "adopted Mom", Mercy Ingraham of PA, appeared in the Early American Life Magazine in October 2009, writing an article on "Polly's Puddings". She and her friend, Sue Huesken, co-authored Colonial Burlington Cooker: A Book of Receipts April 1770, Polly Burling. Since it is still cold outside today and John started the fire early, I decided to try one of Polly's recipes. Bread and Butter Pudding was delicious! We'll be using the recipe in our Open Hearth Cooking workshop in the Fall!
Mercy is a well-known open hearth cooking instructor. You can find out more about Mercy and her book at: openhearthcook.com Check it out!
Mar 20-Has it been almost a month since I last posted the news? How time flies! I cooked in the open hearth one day last week, testing a few 19th century recipes for the workshop in the fall--rosemary chicken, roasted squash & other veggies, & apple pudding. All delicious! We plan to offer this workshop through the college in Blytheville. Below Left: Rosemary Chicken in Wine, Butter Fried Squash, Fresh Apple Pudding; Right: Baking the Apple Pudding: An unseen Pot of Soup is hanging over the fire.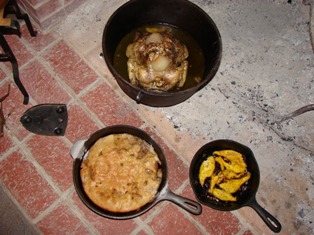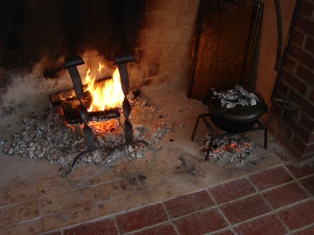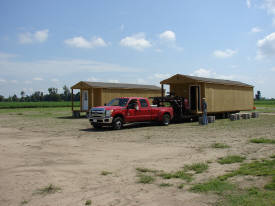 John's working on the interior of the shotgun house on the right. (We're still waiting for lumber for the log house.) We hope to have the house open as a display piece in the fall. We're calling it "Cowboy's House" in memory of Floyd "Cowboy" Cook, who worked for years on the farm and lived in one of the shotguns.
Slowly, but surely, we're moving forward. . .
Mar 30-Have you ever been to a White Elephant Sale? It's much like a rummage sale. We are lucky to live close to one that's open every Wednesday & Saturday mornings. There's anything imaginable & the prices are always right. Three rooms are filled to the brim. But, the real treat is the three ladies who run it--Fannie Ruth, Ruby & Katherine. They are a joy to be around!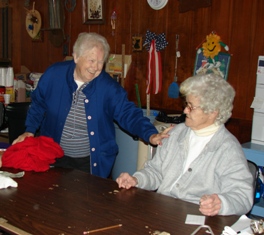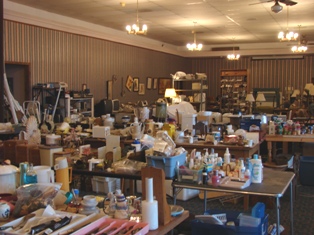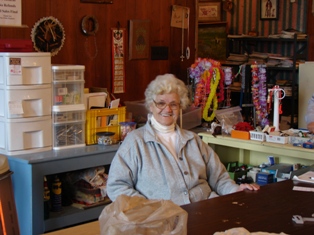 It was cold & windy today, but we had to visit our ladies. We came back with three huge garbage bags, filled with clothing @ 25cents ea, fabric, books, a new quilt, miscellaneous hardware, jewelry pieces, a metal cart, purses, & shoes, all for less than $20! How's that for today's economy? These ladies have been very generous in donating numerous personal items to the farm & have taken a big interest in what we are trying to accomplish here. They've become a second family to us. We love em all!
Mar 31-We'rehaving a typical sharecropper meal today--black-eyed peas with tomatoes & sausage (link to recipe in the left column), wild rice, buttermilk corn bread, kraut salad, jello & pear salad, & coconut pudding (from scratch). Don't you wish you were here? It's a quick & simple meal, but oh, so good! Tenants had to work in the field, leaving little time for food preparation. John & I aren't working the field today (too muddy), but we ARE working in the shotgun house!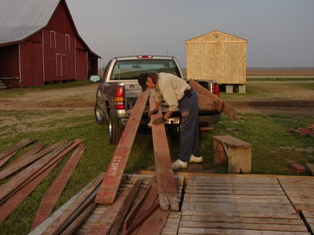 April 8-The "Cowboy" shotgun is coming right along. Where possible, we are recycling found materials--some from the farm, some from donations. We're trying to recreate the experience of a home built in the 30s, with a few updates over the years. At the left, John's cleaning boards off 3 old barn doors that we took apart. They'll be the interior bathroom wall!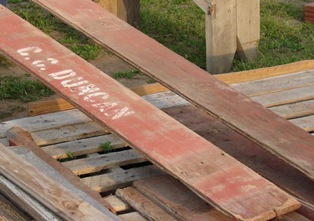 We found a surprise on one of the boards--Daddy's name stenciled in white! The boards must date back ca 1960. Other interior walls are being constructed from tongue and groove cypress from the Crossroads Baptist Church classrooms, donated by Alton and Bernice Blaylock. Last week, Billy and Cathey Huddleston donated wood windows from their home, built in the 1960s. Bill Walton of Dyersburg, TN, has found us a footed tub. (We'll need another one for the second shotgun house, if you have any leads.) Found a kitchen sink in the barn, as well as some period furniture. Moving right along. . .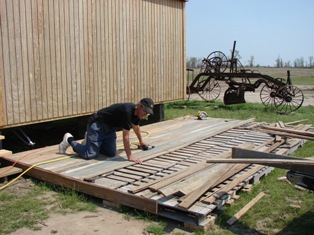 April 10-Another day of hard work for us! We built steps and a deck onto the future "gift" shop. Above, John's flooring a side deck that will eventually be covered with a roof for protection from the hot summer sun. The base of this deck is made from wooden pallets. The floor is salvaged tongue and groove planks we found stored in the Widner barn. Where am I? I've helped with the projects, but someone has to take the photos!
April 15-Rain, rain, rain. . . but. . .after the storm. . .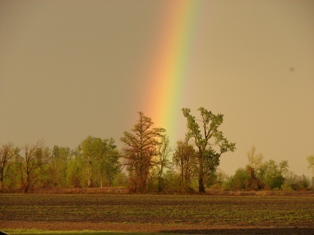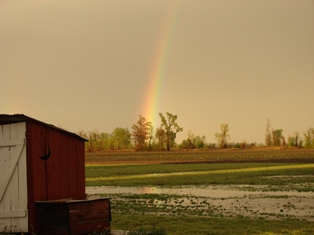 Looking out our back door, there were double rainbows right over our acreage--so close we could almost touch them. (One was very faint and does not show up here. It was to the left.) No Pot of Gold, though! We checked!
Isn't it beautiful?
April 19-We'll be presenting five workshops through the Arkansas Northeastern College (Blytheville, AR) this fall! Watch for our schedule and links to sign up! Open Hearth Cooking, Medicine Bags and the Herbs used by the Native Americans, Storytelling, Archeology Dig for Kids, and Crazy Crooked T's & Jeans Quilt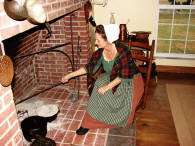 April 25-John and I will be interpreting the Territorial period of this area at the Parkin Archeological State Park, Parkin, Arkansas, on May 14! We'll be dressed in costume, cooking in a fire pit, telling some stories, working on a few crafts, and asking for a little help from the visitors. Come by and see us! For more information, see arkansasstateparks.com and click on the Parkin link. This is the site of several large Indian Mounds and the place where DeSoto crossed the Mississippi River. Very interesting to see and fun for the kids.
John will be at ASU in Jonesboro, AR, for a Rotarian District Meeting at the end of this week, displaying and selling some of his leather bags and other items, as well as giving out information about our farm. For more information about the meeting and location, go to: rotary6150.org
April 26-We are being "hammared" with rain and severe storms for more than a week now. Over 9" of rain since the weekend and more rain on the way. Tornadoes, hail, straight line winds--you name it, we've had it. But, so far, we have faired well--only minor repairs. Farmers haven't been able to get into the fields to plant for weeks. What few fields were planted have washed away. What a Spring! Reminds the Old Timers of the storms and floods of 1927 and 1937. You can bet when the fields are fairly dry, farmers will be running day and night, trying to get those seeds in the ground. Harvest may be late this year. . .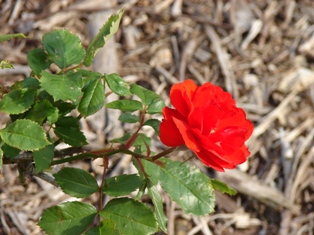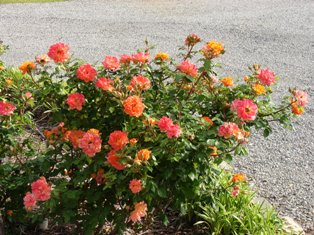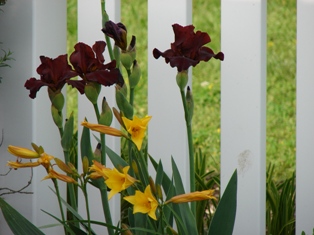 May 8-Mother's Day!! And, just look at Aunt Mamie Griffin's beautiful roses and Mom's (Irene Duncan) spring flowers! We moved as many plants and trees as possible from both their yards to the farm, in memory of both.
May 14-Update: What a fun day! John and I were a part of the 19th century interpretation at Parkin Archeological State Park (AR) today. We dressed in costumes of the 1830s and cooked in an open fire pit, letting visitors taste some of the foods of the era. Other interpreters included a a traveler from "Tejas" (Texas), a steamboat captain, a young family, and others. Thanks, Cindy, for inviting us!
May 18-Our signs are taking a beating this year. The grocery sign was blown off during a recent wind storm. The historic district sign is losing it's overlay (below). But, we will soon have the grocery sign back up and a replacement for the other one.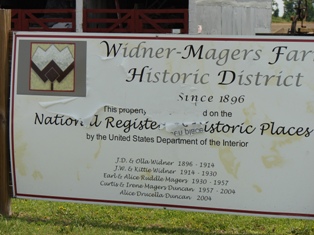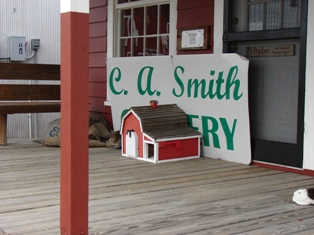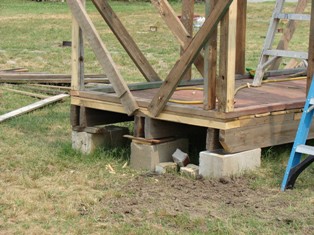 May 30-We spent our Memorial Day with a new project--as if we didn't have enough! We're waiting for the lumber for the log house--still--so we decided to build a small storage building back of the log house from "found" materials. The base is an old trailer bed Daddy built back in the 1960s for our house boat. The wood and rafters came from buildings torn down here on the farm years ago. We found them last fall while cleaning out the Widner barn. The only items we bought, so far, are the posts. "Going green" is nothing new to the farm. . .
Below you can see another "green" idea-using old hay bales as planters. Because of the floods and wind during April and May, our garden was planted very late, so it's hard to see the seedlings.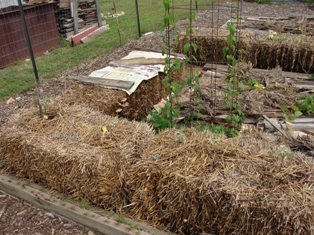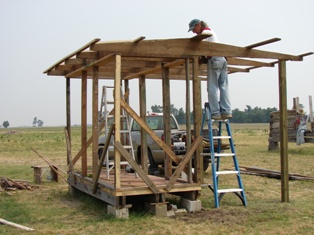 June 3-The weather is now setting record breaking temperatures, with no end in sight. Each day this week, the heat index by noon has been well over 100 degrees. John and I go to work each morning at least by 6:00, sometimes earlier, so we can take advantage of the cooler temps. In spite of the weather, we've made progress with the outbuilding. Note the log house in the background. . .That's a "Her Crow" sitting in the doorway. . .
June 4-Exciting news! The cypress is cut and ready for the log house! We're picking it up today.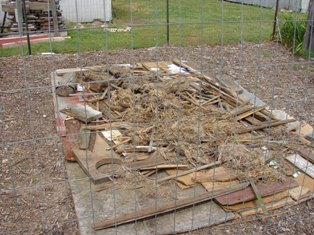 Making compost--for next year. . .Layers of newspaper, cardboard, scrap lumber, rotting hay, and all will be topped with a layer of dirt. Then more laying throughout the summer. "Going green" again. . .
June 6-We received permission to explore two very old houses owned by the B B Hodge family at Lone Oak. We took photos and measurement inside and sketched out the floor plan of each. The first house is an I Style plan. The lower one is a tenant house, constructed in the old post and beam style, used mostly for building barns. I'll be posting all our photos and info soon on this site. Watch for it. . .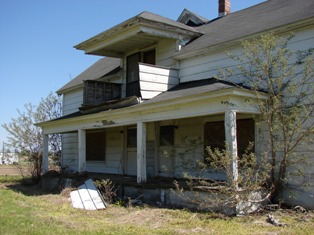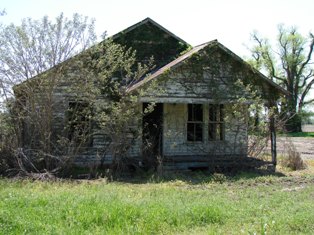 June 7-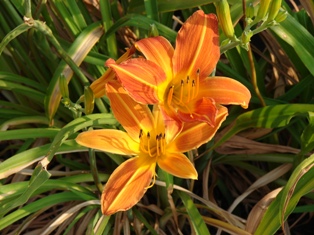 Our Lillies have been beautiful this year. You'll see more of them later on a new page featuring our farm gardens.
June 8-11-This week, we continued to work on the outbuilding for the log house, even though the temperatures are in the upper 90s with heat indexes well above 100 degrees. It's summer in the Delta. . . hot and humid.
June 13-The fireplace is coming down. It has not worked correctly from the beginning--the draw is not correct so it smokes 90% of the time. When it rains, we have to put buckets and towels down. We've tried numerous fixes. The contractor who built it has refused from the beginning to make it right. A recent inspection of the structure has revealed it to be a fire hazard. So, the only decision to make is to take it down and put it back up correctly. Frank Brogden from Paragould will be building the new fireplace for us. He's an experienced mason, & he has promised we'll have a working fireplace by this fall. Thanks, Frank!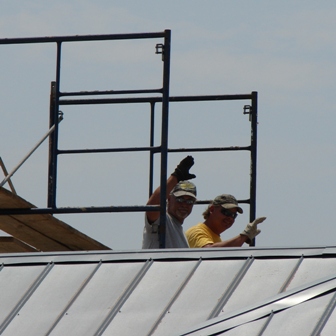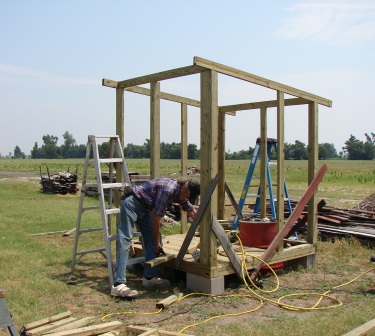 John & I have started our own project--a functional outhouse!
June 16-The sides are up on the outhouse. . .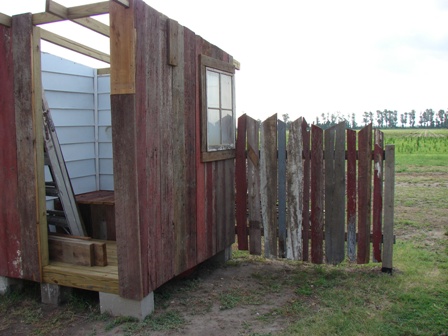 A fence from the "left-overs".
Below: The fireplace comes down. . .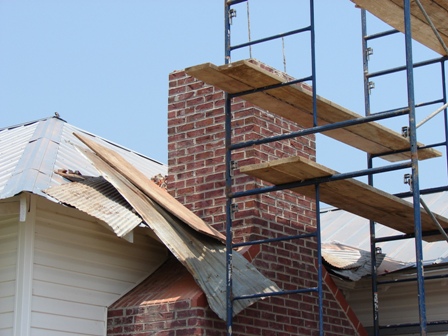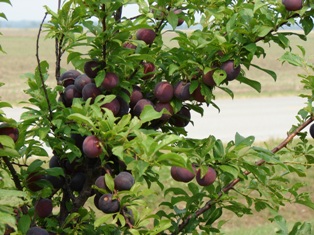 June 22-From This:
To This: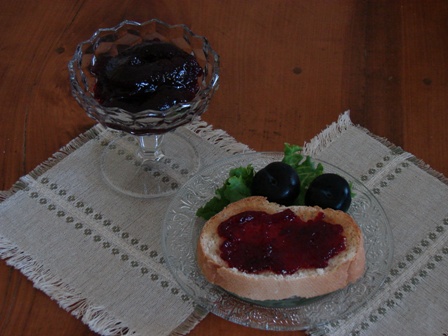 Our plum tree is barely five feet tall, but it sure produced a lot of red plums this year. Today, we made a total of 16 pints of jam and 4 pints or plum syrup for the bread puddings John loves. And, we had a few plums left to eat. . .Check out how we made the jam in the recipes at left!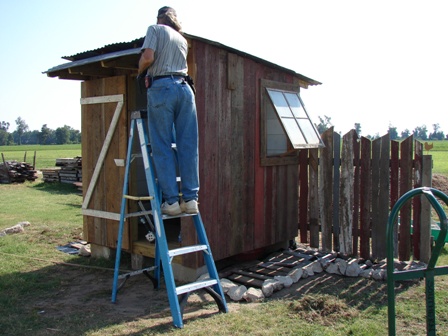 June 23-The outhouse is done--except for paint, trim, and some decorating. How do you like the window? I plan to hang pink curtains, just like Grandmother Magers did. This is a composting outhouse. John found the directions in a magazine, so we thought we'd try it. I'll be posting how it was built at a later date.
Sept 24--The archeology dig was a success. . .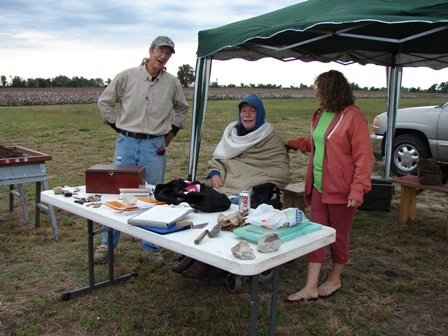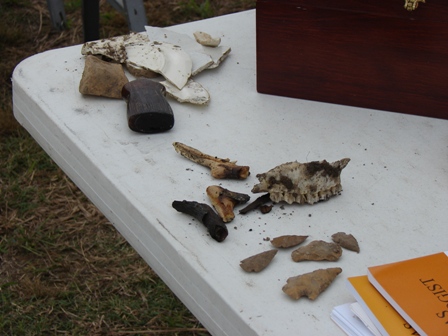 We're in the News: Blytheville Courier News, October 14, 2011. Go to: couriernews.net and follow the links. There's also a link for the gallery of 32 photos of the farm. Enjoy!
Oct 1-13-We've had many visitors during our Thurs-Sat openings. One family was from Washington state! Others have come from Manila, Paragould, Blytheville, Gosnell, and other NEArkansas towns. We've enjoyed everyone of them. And, I think they've enjoyed 1938!
Oct 14-The Blytheville Women's Club was with us here at the farm today. They brought sack lunches and we treated them with double decker Moon Pies. Then we stepped back in time with a tour of the farm. Many could remember the days of picking cotton by hand. A few had to try the outhouse--for old time's sake.
Nov 1-Only one month left to tour the farm! We've been blessed with lots of visitors this fall, but we would still like to see more of you!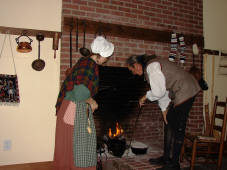 The Open Hearth Cooking Workshop for November.
Nov 18-After studying "Cotton In My Sack" for several weeks, the five fourth grade classes from Gosnell School will visit The Farm today. Approximately 100 students will get a look at the 1930s, including a tour, hands-on experiences, and games. We're excited that they will be participating in their own local history!
Some Photos of the Tour: We toured five classes from Gosnell Schools. While one class was touring, others played games from the 1930s, including hopscotch, horseshoes, three legged race, Red Rover, and others.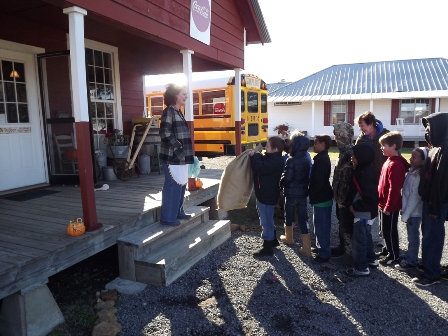 Students learn how heavy a sack of cotton really is.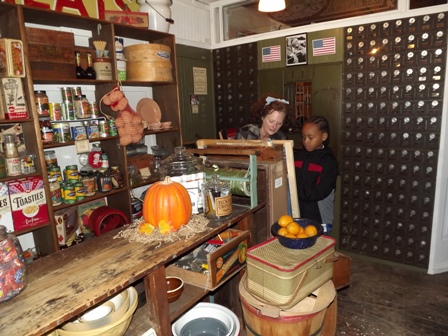 Learning to make a rag rug.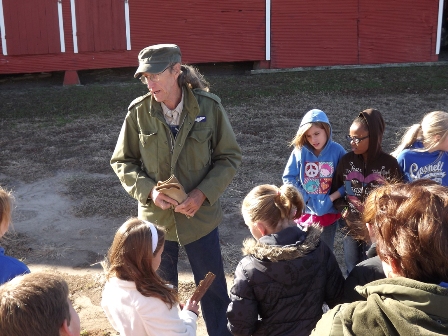 John speaks to one class in front of the Magers barn.
Nov 19-Come see a few Delta Utility Quilts and learn how they were made.
We're studying quilts used by the farm workers in this area--often called "utility quilts." If you happen to own any of these quilts, please email us. This is a part of our local Delta culture that is being lost.
Nov 27-Hope you all had a wonderful Thanksgiving! Most of the Magers cousins got together in the Ozarks for some great food and to catch up on each other's lives. Then John and I returned home to take down the fall decorations and begin winterizing the buildings. It's hard to believe the end of the year is almost here. We'll be spending the next few weeks preparing for Christmas at home. Photos to come. . .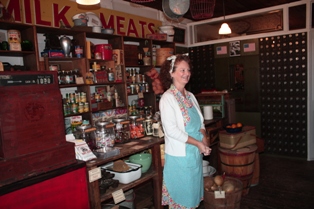 Dec 10-Hope you're having a wonderful Christmas season! We're busy at The Farm, preparing for a "long winter's nap." We've already had snow and frigid weather, hindering our decorating for Christmas. Hoping to get busy with it this week.
Winter is the time I try to catch up on websites, bookwriting, rug making, quilting, and all the other indoor projects overlooked in the summer. This year, I'll also be working on a new blog site that will combine Dell history with our farm news. Watch for links!
---
For questions, or to send information, contact: backatthefarm1938@yahoo.com