UNDER CONSTRUCTION!!!!!!!!!
---
Buttermilk Pie
from Alice Ruddle Magers ca 1930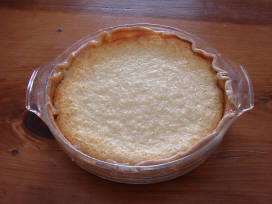 Melt 1 T. Butter. Add 1 cup Sugar and blend well. Whisk in 3 Eggs. Then whisk in 4 T. Flour. Add 1 tsp Lemon Juice and 2 cups Buttermilk. Pour into an Uncooked Pie Crust and bake at 375 degrees until set and edges begin to brown.
---
Buttermilk Pecan Pie
from Dru Duncan, ca 1980, adapted from a recipe from 1928

Whisk together 3 eggs in a bowl. Add 1 1/2 sugar and 2 T flour. Whisk. Then add 8 T. Butter, 1/4 cup Buttermilk and 1 tsp. vanilla extract. Place 1 cup chopped pecans in the bottom of an uncooked pie crust. Pour egg mixture over it. Take whole pecans and place along the edge. Bake at 350-375 degrees for about an hour or until pie is set and beginning to brown.
---
Buttermilk Corn Bread
from Aunt Mamie Magers Griffin, ca 1930s
Preheat oven to 400 degrees. Add a pat of butter to a 6-7" black iron skillet and place in oven when temperature has reached 400 degrees. Quickly blend together 1 cup white cornmeal, 1/3 cup flour, 1 tsp baking powder, 1/2 tsp salt, and 1/4 tsp baking soda. Add 1 cup buttermilk and 1 egg. Stir until just blended. The butter in the iron skillet should be sizzling by now. Be sure the butter covers the bottom of the skillet. Pour cornbread mixture in. Bake for approximately 20 minutes or until golden brown. Serve with more butter.

Recipe can be doubled for a larger skillet.
---
Elizabeth Ruddle's Fruitcake
ca 1870
Martha Elizabeth Tolbert Ellis Ruddle, wife of John Ruddle, was Alice Mager's mother. They lived in Hayward, MO. Alice lost her father when she was only 3 years old. She lost her mother and only sister, Delia, to yellow fever when she was 10. This recipe is written in Alice's handwriting, probably jotted down from her half sister, Emma Ellis, who raised Alice after losing her family.
---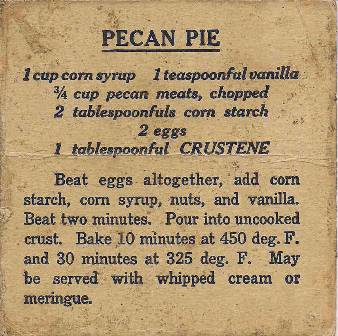 Found in the White House Cookbook belonging to Alice Magers
---
---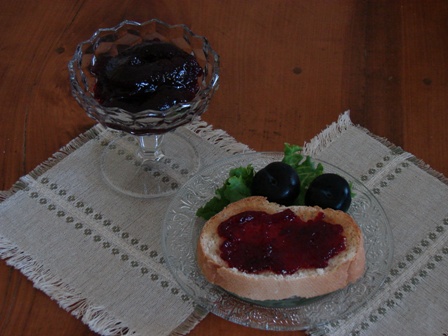 Plum Jam
Making the Pulp

The only jam or jelly Mom bought during the year was an occasional quart of Rex Jelly. All others she prepared from our own fruit. We had plum, apple, pear, crabapple, and peach trees that bore a surplus of fruit every year. When John and I moved to the farm, we naturally wanted our own fruit trees. We planted ten semi-dwarf trees and have waited for the first tree to produce enough fruit for our own jam and jellies. The plum tree won! Hands down.

Mom sometimes made jams from scratch, but often she used the fruit pectin from the grocery. With so much to do this year, I decided to take a short cut and make our jam using Ball Original Fruit Pectin. The instructions are on the package. But, you'll need to make a pulp from the plums first. Here's how: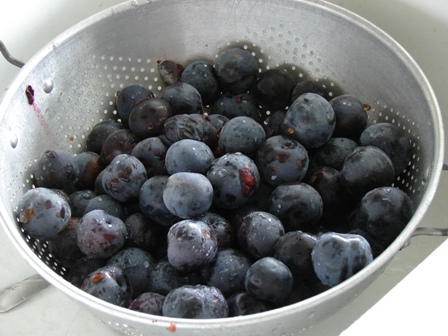 Wash plums. Cut out any blemishes. In a large enameled pan, place the whole plums. Add a little water. Bring to a slow simmer. When the skins burst and the fruit is soft, remove from heat and run through a sieve. Discard seeds and any remaining skins.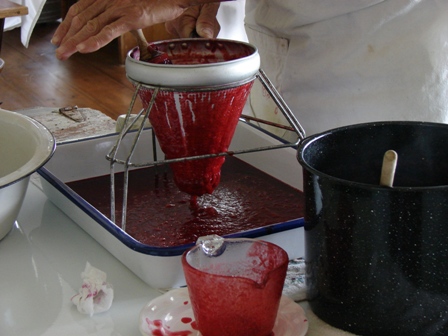 Proceed with the Fruit Pectin Recipe. Please note: Fruit pectin recipes may vary. Be sure and follow the instructions for the brand you have chosen.
*************************************************************
Plum Syrup
Plum syrup (or any fruit syrup) is very simple to make. Used as a topping on ice cream, pound cake, or my special bread pudding, this sweet treat will make you smile!
Prepare pulp as above. Measure equal parts of the pulp and sugar into an enameled pot. Slowly bring to a boil, stirring constantly. As the mixture boils, it will begin to thicken. Continue stirring until the it's reached a desired consistancy. (I cook mine 3-4 minutes.) Pour into sterilized jars and seal.
Favorite Bread Pudding with Plum Syrup
I'm letting you in on a little secret. Over the years I've tried bread puddings too numerous to mention. Our favorite, though, was born one day when I had a couple of gallons of buttermilk. I'd made everything with buttermilk that I could think of, including several Buttermilk Pies to put in the freezer. And, I still had buttermilk. Then a thought hit me. Why not use the same egg-buttermilk mixture for a bread pudding that I used for the Buttermilk Pies! So, I tried it. John's first word was "Wow"!!!!!! Here's my secret recipe:
Tear into pieces enough French bread (or sourdough, or biscuits, etc.) to fill a 8.5"-9" Pyrex or other glass pan. Fill in as many holes as possible but don't mash bread down. In a bowl, mix together a custard using the Buttermilk Pie recipe above and left. Pour over bread. Let it stand about 5 minutes, or until the bread has soaked up some of the custard. Bake at 350 degrees until done in the center and browned on the sides and bottom.
Let cool for 10 minutes before serving. Serve with plum syrup. Yum!!!!!!
---
Hunter's Stew
Our farm is only a mile or so from the Big Lake Wildlife Refuge, where every fall people come from all over the US to hunt deer, duck, and geese. I'm not sure where the following recipe came from, but it's always been a hit with our local hunters.

1 lb polish sausage (Kielbasa), sliced diagonally in 1" pieces; 1 can (4 oz) mushroom pieces, undrained; 1 large apple, peeled, cored, and sliced; 1 can (1 pint) sauerkraut, drained (homemade kraut recipe below); 1 medium onion, chopped; 1 bay leaf; 5 peppercorns; 1 clove garlic, minced; 1 can (1 lb) tomatoes; 2 strips fried bacon, crumbled.

In a slow cooker layer half of each of the ingredients, except the bacon, in the order listed. Repeat layers. Top with the bacon. Simmer 5-8 hours.

*No slow cooker? Layers ingredients in a large casserole dish. Cover. Bake at 350 until flavors have combined.
---
Easy Canned Sauerkraut
from Irene Magers Duncan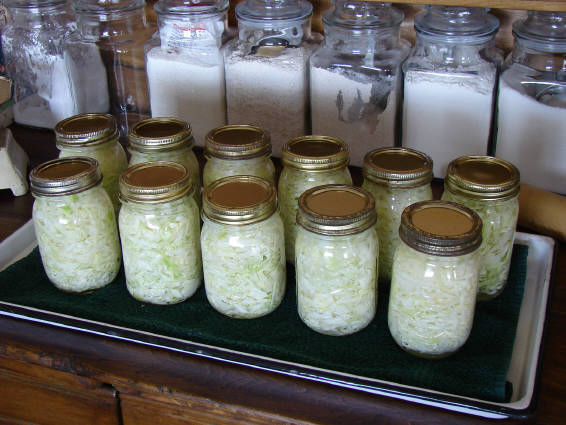 This is a really, really simple way to make kraut. Pack clean pint glass canning jars with shredded cabbage. Pack it tight!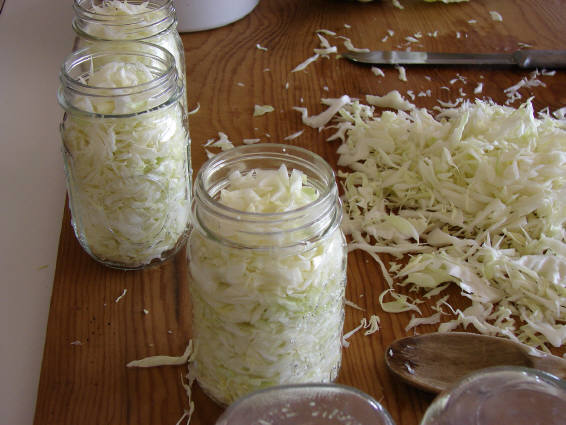 To this add 1/2 tsp canning salt, 1/2 tsp sugar*, and 1 T white vinegar*. Pour boiling water into jar mixture to almost the top of the jar. Run a stainless steel knife down the edges to let as many air bubbles escape as possible. Seal top as you would in canning.
*Note: sugar & vinegar can be adjusted to taste but maintain the same ratio
Set jars in a pan and in a dark place for 7-14 days. (I like to leave it about 10 days.) As kraut is fermenting, the seal will be broken and there may be some overflow of liquid. That's ok. Don't panic. You'll see the cabbage turn from green to a whitish, yellow. This is normal.
Once the kraut looks ready, process it in a water bath for 20 minutes. The jars will reseal. Leave rings on for 24 hours and then remove rings only. Your kraut will be ready to eat in 2 weeks!
---
Beans (or Blackeyed Peas) with Tomatoes & Sausage (or Ham)
from Irene Magers Duncan & Dru Duncan
This recipe is related to the Creole/Cajun food of Louisiana today. It probably comes from both the French American hunter/traders in this area during the 19th century and the African Americans who came to work here from Mississippi and Louisiana. By the 1930s, dishes like this were common in all households, including whites.
Many substitutions were made, depending on what was in the pantry. Each cook had their own seasoning technique, too. I'll note a few of the substitutions, but feel free to adjust to your taste.
There are seven main ingredients necessary for success: beans or peas, meat for seasoning, onion, garlic, tomatoes, hot pepper +/or hot sauce, bay leaf. The rest of the list can be adjusted to taste.
The Basic Recipe: "Throw in a pot", 2 cans or approximately 3.5 cups cooked and drained blackeyed peas, red beans, black beans, kidney beans, or pinto beans. Add a little chopped smoked sausage, ham, or bacon for seasoning; 1/2-1 chopped onion; a clove or 2 of garlic; 1 can, 1 pint or 2 cups tomatoes; 1 tsp. red pepper; 1 tsp. black pepper; 1 1/2 tsp. hot sauce; 1 small bay leaf.
In addition, the following ingredients will bring out more flavors. Use any or all:: Chopped celery, parsley, oregano, Worchestershire sauce (1 T.). Salt to taste.
Let simmer until the flavors combine and the vegetables are cooked. Don't stir too much or beans/peas will be mushy. Try serving it on top of corn bread or rice. Delicious!
---
Salmon Cakes
from Aunt Emma Ellis Liggett, half sister of Alice Ruddle Magers, ca 1920
This is a simple recipe, dating back to the early 20th century, that works well with canned salmon, canned tuna or canned mackerel. Aunt Emma and Uncle Will moved to Dell ca 1919, where Emma ran a boarding house in their home. She was known everywhere for her home cooking. She served meals three times per day, first come, first serve. There were never any left-overs, according to the family stories.
When I was growing up in Dell, Daddy fished at Big Lake during the spring, summer, and fall--when the fish were biting. What we couldn't eat, Mom froze, covered in water, using clean milk cartons. When we began running low on fish, Mom turned to the canned salmon and made salmon cakes. She believed we needed fish at least once a week, a concept scientists agree with today!
Be sure and make plenty! These are light and delicious! You can't eat just one!
Open one can salmon (or tuna or mackerel), pouring 1/4 cup of the liquid into a separate small bowl. Debone salmon in a larger bowl and flake with a fork. Add a little chopped onion, and 1/2 cup flour. Mix. Add 1 egg. Mix. Set aside.

Meanwhile, heat a little oil in the bottom of a skillet (I use sunflower, olive, or canola oil) until a small piece of salmon mixture "sizzles" when dropped in the oil.

When oil is hot, mix in 1 tsp. baking powder with the 1/4 cup salmon juice until baking powder is dissolved and liquid is foamy. Add to fish mixture. Stir well.

Drop by heaping spoonfuls into the oil, slightly flattening the tops to form cakes.** Flip cakes once the bottoms are a golden brown. Drain on paper towels. Serve alone or with ketchup or tartar sauce.

**Cakes can be rolled in cornmeal before frying, also.
---